Copyright settings
If you want to sign out your Flash Movie, you can add the Copyright string to it.
Copyright information is embedded in Movie graphics, so it is hard to remove it event if somebody decompiles your Flash Movie.

Use the command "Copyright settings" from menu Edit or click the corresponding button on the Toolbar.

The dialog "Copyright string settings" will be opened.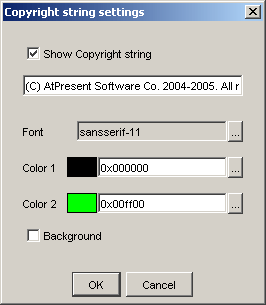 In this dialog you can set next parameters:


Copyright information to be displayed

Font to display copyright string text with

Color1 - color of copyright string text

Color2 - color of copyright string text's "shadow" or background

Flag that shows if the second color should be used as background color for Copyright string

After you press the button OK, the Copyright string will be added to Recorder's work area.
You can resize and move it in any place you want.

Note.
You can set default properties of your Copyright information in "Shell settings" dialog and copyright will be added to all your movies automatically.

Return to Contents